Book your journey on the amazon river Manaus to Leticia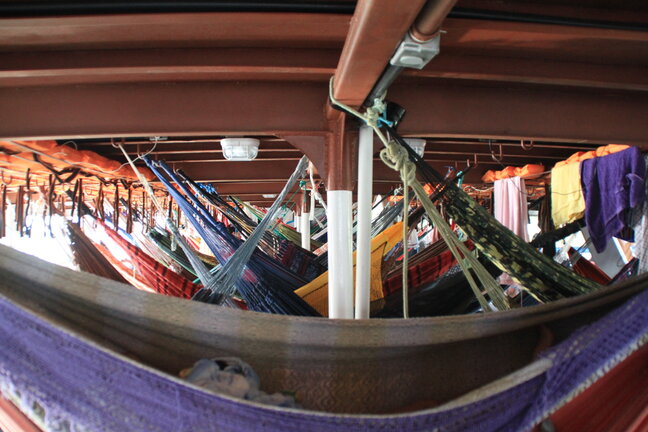 How to Book Tickets for Boat Journey from Manaus to Leticia
Travelling West up the Amazon River from Manaus to the Tabatinga-Leticia border is a unique way to cross the border whilst absorbing the culture of local Amazonians, and gaining a real respect for the majestic rainforest river.
You won't find tickets for sale online. To experience this trip, you really need to think and act like a local.
There are only two ships that take the seven-day journey on a (semi-)regular basis, and a smaller boat covers the route in five days by cutting out a few stops on the way. I had my mind set on the seven-day trip, with more time on the South America's most famous waterway, so set out to get a ticket onboard the GM Oliveira I. The other ship is called GM Oliveira II. They're basically the same.
You can sometimes find the ship's most up to date itinerary on the vessel's Instagram page, but – as with the timetable itself – this service can be sporadic. Better is to turn up in Manaus and talk to the locals.
Manaus is a loud, crowded port city with a huge freshwater fish market. It's not always easy to find the right person in a crowd, but ask around and you'll be pointed in the direction of a commission salesman.
Shop around. There are countless vendors and they've all got a different price. The way it works is the vendors negotiate a deal with the captain and then add on their commission before they sell you the ticket.
Get a few prices before you part with your cash – especially if you've got tourist written all over you. And haggle. This isn't a shop. These aren't set prices. This is about two people getting the best deal. The seller, yes. But you too.
I ended up paying around 80 reals and at the time around £10 - £12 for the seven-day voyage, which included three meals a day for the duration of the trip.
Given that the schedule is somewhat coincidental, don't waste time waiting for the next ship – if there are tickets going and the ship is in dock, now's the time to travel.
All boats heading West up the river terminate at the Tabatinga-Leticia border, giving you entry way into Peru or Colombia to continue your journey on land.
Tags: