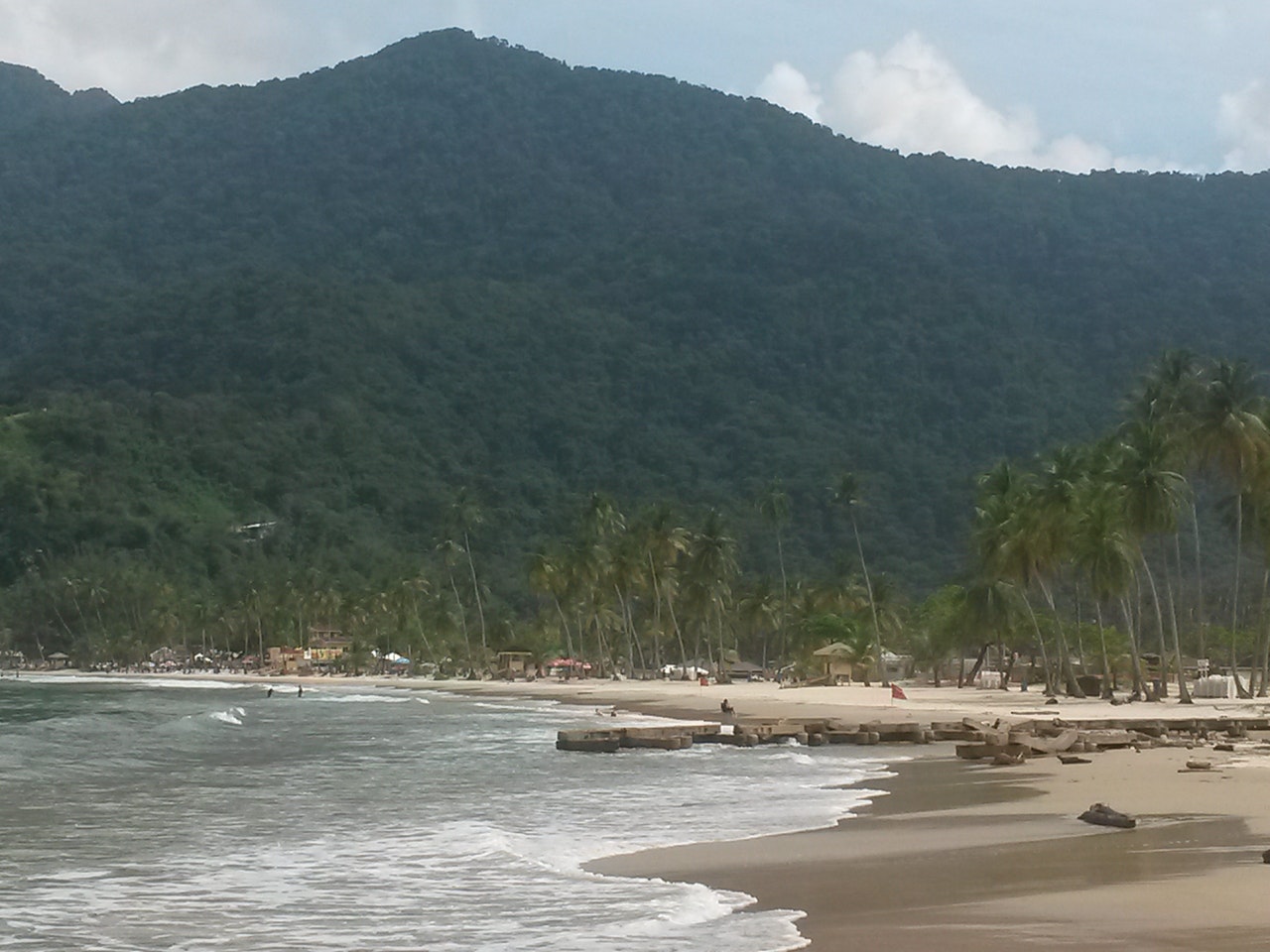 Port of Spain old years night celebrations.
I arrive in Trinidad at the end of December from a connecting flight from Toronto, the 30th to be exact. My first day in Trinidad was greeted by the airport security staff a young lady probably younger than I was, I had pre booked accommodation through Airbnb a lovely lady called ally her profile here So my short time in the airport, I was bombarded with questions from where have you came from flight no: what are your intentions in trinidad and an address I will be staying at, as well as the name of a person I was staying with. I normally react well in situations like these but for reasons amongst the ridiculous stories of Trinidad I had heard before setting off probably was in the back of my conscious, I keep all paperwork in a neck pouch such as passports permissions and accommodations also flight e-tickets but I just could not find it at all. So again a more grumpy request for the above from the young lady I just named a street I had remembered in the back of my head arapiata avenue as this was a hotspot for night life and entertainment maybe the reason I remembered it and a name aswell I pulled out of nowhere, an author of a book kira salad a book I probably recently read I said lives on arapiata avenues and my reason in traveling here was to just fly onto Guyana in 7 days I was stamped and off I went.

So in places I have travelled to in the past I was expecting a similar welcome from the droves of taxi hustlers bartering for your business, but as I got through into departures I then sat down as it was quite quiet with the remainder of my flight passengers heading off into what looked to be, absolute scorching temperatures as the haze from the heat was visible I then realized I had a huge winter coat on as I had just been to Canada in sub zero temperatures I wrapped it up as best I can finally dugout the email printed from my booking from Airbnb. And went on the search for a seemingly rare taxi. I asked a number of people they all pointed down to a carpark which was around 5 minute walk from the departure door and the heat is overwhelming to begin with but then you embrace it and realize in my case I had just came from the freezing temperatures of Canada.

So after finding a taxi which was not to hard once in that area I showed him the booking info and it stated park avenue where the taxi driver immediately new where it was so no issues there and paying around $12 I was there, the house was nice and the area was also quiet I thanked the driver got my belongings and rang the doorbell. A few dogs was set off and then a voice from the other side is that Daniel I said yes we greeted each other she was an extremely nice lady, showed me the house from the garden to the kitchen and then the room I will be staying in, Ally then introduced me to the dogs and defined them by age young not so old and old.

I rested up spoken to family back in the UK and then went and asked ally where to go and explore have food and drinks as it is New Years tomorrow night, Ally then went onto say here is a map and then explained the local areas from arapiata avenue which was not 2 streets away, I was not to far of with the border lady. So the further up arapiata ave you go the more glamorous it gets as does the prices of beers, and I was also made aware that try not to go down the side streets, as it gets a bit more un-glamourous shall I say as there are a number of homeless people and cause a bit of a nuisance for no particular reason and would do better to avoid it I agreed and then prepared to explore with a GoPro in hand I was then handed a set of keys and ally said enjoy your evenings in port of Spain.

It was around 1930 when I headed out that first night on the 30th of December as I walked around to the infamous arapiata avenue there was a huge cemetery with graffiti on the walls stating respect the dead obviously not maintained was extremely overgrown and with a statement like that I would of thought it would have a little more upkeep. But nonetheless I continued up arapiata and there was countless small pubs with a number of people in them I continued quite far up to a small open seated area, sat down for a while wishing I had brought my DSLR camera out as people saying hi and I could get any footage in such an open space with a small action camera, I then walked to the closest bar to my Airbnb for comfort for now there was only men in here at this time all seemed to speak Spanish and greeted me in Spanish, as I don't resemble a typical English mans feature I knew basic Spanish from my previous journeys so I answered in Spanish and kept it up for as long as I could but not being able to respond all the time in Spanish due to my lack of the lingo and to not seem arrogant and rude and gave it up. Explained I was from the UK they all laughed and asked what part they immediately stated London I explained no Birmingham In the middle of the country the convo got to football, and sports typical pub chat. As the beers kept flowing and a need for speed movie was on the night got to around 2230ish I asked what is the place to be tomorrow not for new yrs they corrected me and said it is old yrs night here in Trinidad and they said anywhere will have music and would be a good lime. (lime in Trini slang is to hang out and chill listening to music and dancing) I thanked them and explained I had travelled a lot today I need to get some rest I paid my tab they waved me off and shouted tomorrow boy! I waved and said goodbye.


New Years eve, old years night
So it is the 31st of December my first time overseas for New Years eve and I was looking forward to it a lot, so the day was spent just exploring the local area and a few backstreets. Where I was told not to explore but my mode of travel anywhere in the world is to get genuinely involved, in the culture the way of life bad and good and a hunt for the world famous doubles, doubles is a Trini national food how to define doubles I'm going to have a go down to wikipedia (Doubles is a common street food in Trinidad and Tobago. It is a sandwich made with two baras (flat fried bread) filled with curry channa (curried chick peas). the hunt failed as I later learned they where more in the square, but on my exploration I found some statues Trinis one of the mighty sparrow which was an historical calypso artist which on this day I also did not carry out my bigger camera so no image of it. I spent most of the day wondering around aimlessly as long as I could find the arapiata avenue I would be fine and although taxis where sparse in the airport there was a countless beep, of them in and around the city so getting back home would not of been an issue. The food I did find was the ever present Chinese takeaways businesses I do not know what I ordered I just pointed at 2 items in the menu what sounded familiar to the UK menus which turned out to be something completely new or possibly with a Trini flare who knows, as I ate it on my walk back to arapiata avenue late afternoon on the preparation of tonights big lime for old years night. As I found my way back for about 1700 I went back in spoke with my host and explained my day she advised me to try and find the Brian Lara statue before I leave port of Spain in the coming days and she introduced me to a friend of hers which was a passing visit he greeted me with the same politeness and respect as my host did, and explained tomorrow new yrs day we can have a meal and have a chat to get to know each other a bit better I agreed he then told me to enjoy my evening. went to my room prepped for going out to enjoy the hospitality of the Trinidadians again.

Around 8 that evening I headed out jeans on smart shoes and top I went into the bar of the previous night but the same crowd was not there as last night there was a few more ladies speaking Spanish talking about Venezuela which was on the news I had one drink and at around 930 I left and carried on a bit further up the road and down a side street where music was pouring out of the door as people left and entered. So I decided on that place for tonight, so I walk in and there are about 15 morbid looking blokes as if the world was about to end with 2 young ladies behind the bar I looked like the odd one out. immediately new face not knowing any people inside my pride kicked and said have one or two drinks and make a conversation with the barmaid, about the sad looking crowd on new yrs eve. I ordered a local beer which was carib and began drinking and trying to just blend in, which did not seem to work as everyone seem to be still looking at me maybe it was a bout of paranoia, I was tapped on the shoulder by the young lady from behind the bar she asked if I was alright I said yes ask why do you ask, she laughed and said I looked sad I ordered another carib and asked a few informal question to break the ice before I began asking her why the crowd are so miserable. She said it won't be like that soon I presumed she meant when the rum and the made up cocktails of drink they was asking for where going to kick in. The night was getting later so around 1045 11ish a huge crowd came in and it was why it was about to liven up each one of these grumpy men where waiting for the other half, girlfriends, wives to arrive the music got louder soca and calypso began to play, everyone was dancing to it in near perfect rhythm the ladies and men both where precise and I thought it is late now the countdown will inevitably begin and I began to enjoy myself. I will still sticking out like a sore thumb me and possibly another man in his late 80s where the only ones not dancing, I was asked by the barmaid, Kemisha who was from Grenada studying fashion in Trinidad she called another lady over who was dancing very well near the bar and was pointing in my direction she in turn tapped a huge rastafarian bloke and pointed in my direction he came over and sparked conversation, asked my name where I was from and then asked where my rhythm was. I said I cannot dance to this music I can't dance to any really he grabbed me and begin teaching me so this 7ft bloke double my weight was teaching me a 1, 2 step move for a good 15 minutes. I cannot say I picked any up but it was a good laugh and had the pub cheering shouting go on boy. As it got closer to midnight and now a warm beer kemisha had another ready to go for me. And told me to go and enjoy the rest of the night as she finished her shift I thanked her and went closer to the dance floor, and the crowd began to clap and music went quiet and a performer got on stage and introduced herself and 15 minutes left until the countdown I got my GoPro set up through my phone app and just watched the crowd for a short while. The ladies voice was immaculate so as the time came close my camera was out and I recorded the countdown and performances best I could few beers awn and pitch black room, Here which added to my youtube recently.

So with enjoying the dancing and getting a bit more involved I went and had food at the bar which was snapper and fries a thing in trinidad a lot of people eat in bars with a beer as is the norm, I began speaking with Kemisha the young barmaid exchanged contact info and arranged a plan for the following few days for her to show me a bit more of port of spain. I said my byes and thankyous and headed off back to my accomodation and walking back down arapiata avenue on new year's night there were parties in the street with locals providing music, through the huge sound systems in the back of the cars mainly a calypso soca sounding music. I arrived back at my room around 130 in the morning and retired the house was extremely quiet presumably ally fast asleep or comforting her dogs from the relentless fireworks or steady flow of music on full blast.


New year's day
On new years day I didn't do much at all I spent most of the day planning to head down to the south of the country, by reaching out to couch surfing members and Airbnb members. After a lot of messages between me and a lot of different people on both platforms. I exchanged numbers with Lorez Andrews and we can communicating through instant messaging app WhatsApp this took a lot of time in the day as I was busy doing a number of other things as I presume she was. So when an agreement had been gotten to I then began researching ways to get down south by online but it was all outdated as the water taxi service was I good idea but holiday season in Trinidad is extreme, they add a day where ever they can and make it an extra holiday for an extra bit of limeing. With no luck online I was asking Ally and her friend over dinner has my host in port of Spain cooked some food for me an herself and her friend was expected to come over, so a bit of local knowledge over chicken and beans would be ideal. As we began talking about my plans, after here I explained explore a bit of San Fernando Sando in local slang, what I would be doing down there and then after Trini traveling to Guyana to explore the vast forest of that region of the world. But firstly how to get down there a map was presented and was easy to follow along with good directions and places to lookout for, so it was the square I was hoping to get to and as no water taxi where arriving today or tomorrow best thing to do is to travel via taxi, which I was told was relatively cheap at around 30 tt dollars worked out to around 4 – 5 us dollars. I was shocked and asked again so for an 1 hour and half if not longer journey it would only cost that much ally laughed, and stated yes it is as cheap as bus to get to your local Shopping mall in the UK so my travel plans relatively set out we finished our food and spoke of sports until quite late myself Ally and her friend (apologies to keep addressing him as her friend as I completely forgot his name).

So before we all went off on our own ally asked what time will I be leaving I said around mid-day ally then said ok as my friend will see you out, just to lock the door behind him. As well as some last minute advice as she will not be around, as she had a bird tour tomorrow. I thanked her again for her hospitality and said my farewell and off I went to bed.

I was already packed by 10am so I let people back home no my plans and where I had been, so I went out the back to shout down her friend who lived in the building behind the house I stayed in, where they shared the garden he was still asleep but I woke him anyways. So 10 minutes later after refilling my 2 big waterbottles he came down he took a quick look at me and said 'I hope you know what you are doing when you get to Guyana' he then quickly recapped the instruction and taxi location and directions, said the only advice I can give you is to put your boots in your bag, as I packed all from my laptop, camera and all other belongings in my large rucksack he said nothing might happen but knowing trini people a street hustler, would take them off the back of your bag without me even knowing. I followed his advice re-packed my bag and thanked him he said no problem and said along the lines of, preventing a potential issue but dealing with it in a peaceful manner is the hardest part and then waved me off.

NB
I will do another post about the time in the south of the country separate from this one as it will be a overly long post best done in 2 separate posts, I hope you all enjoyed the read and continue to read on.